A Brief History of the Development of Bucolic Burlingame
Incorporated in 1908 and located just 16 miles south of San Francisco, the quaint community of Burlingame is a beautiful tree-lined suburb with a rich and diverse history. The town started growing just after the turn of the century, beginning with two stores on Burlingame Square and a train station and quickly became the community of choice for the Bay Area elite.
When the San Francisco earthquake and fire hit in 1906, hundreds of people fled the city in search of a safe place to live. With Burlingame just over a dozen miles away and situated on the scenic San Francisco Bay shoreline, this booming town became highly desirable for many, particularly the wealthy looking to build new homes. Much of the land in the area had been well maintained by prior owners, and hundreds of lots were being advertised and sold at very favorable terms.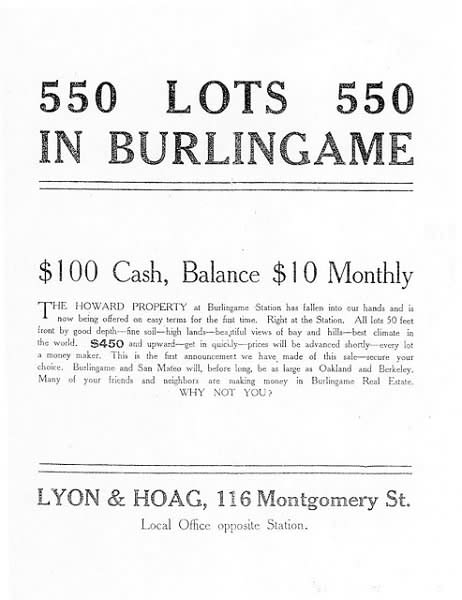 Many relocated to take advantage of the scenic views, pleasant climate and the potential for a lucrative investment as the area began to rapidly build up. During this time, Burlingame was largely established by the annexation of a number of old family estates, including William C. Ralston's land (founder of the Bank of California), the Newland family development (who started the Burlingame Country Club), Rancho Buri Buri (previously known as Rancho Sanchez and later Easton) and the Darius Ogden Mills estate in 1954. While Burlingame was incorporated as early as 1908, it wasn't until the 1920s that development picked up and grand homes on large plots of land started to characterize the community.
Burlingame—since its founding and to this day—is known as the City of Trees due to its over 18,000 trees city-wide. At the time of its incorporation, an ordinance was passed to ensure the protection of these trees indefinitely. Thus, when homes started going up, the trees, parks, and eucalyptus groves were preserved, making Burlingame the lovely community it is today.


From Tudor-style to Spanish Ranch-inspired properties, Burlingame real estate offers a range of 100-year-old homes, as well as modern marvels, that will satisfy every homebuyer's style. Lush gardens and lawns meet the eye everywhere you look, and the setback lines make the arboreal streets appear even wider and provide more privacy and a truly serene atmosphere.


Over 100 years later, Burlingame has preserved the very qualities that attracted its first residents: stunning tree-lined streets and small-town living with easy access to San Francisco, stunning views of the bay, and historic architecture and charm.